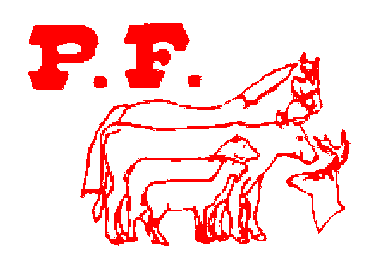 Preconditioning Weaned Calves
Maintaining the health and body condition of calves weaned from cows, as well as, calves brought to the yard or ranch from off site has been a concern to cowmen since the cattle drive days of the late 1800′s. Due to the stress involved with weaning, handling, and moving cattle from one location to the other, young cattle often succumb to disease and malnutrition. Postive Feed's ALL IN ONE supplement can be an essential tool in maintaining the health and profitability of your yearling cattle.
Ranches everywhere are aware of the high cost of labor as well as the value of their own time when it comes to hand feeding weaned calves, sometimes two or more times a day. Consider the following suggestions if you are interested in a cost effective and efficient preconditioning program that requires minimal time and labor:
Before receiving or weaning your cattle, consult with your local veterinarian about a vaccination and treatment program for calfhood diseases that are prevalent in your area. For calves to be weaned off your own cows, it is often beneficial to vaccinate, deworm, brand, implant, castrate, dehorn, and administer Vitamin A, D, and E four to six weeks prior to weaning. This will minimize stress at weaning and will reduce the chance of disease and loss of appetite when these cattle are weaned. For calves purchased and brought in from off site, deworm, vaccinate, brand, implant, and administer Vitamin A, D, and E. To minimize stress and receive the greatest degree of protection from the vaccines, wait two weeks to dehorn and/or castrate the cattle, if needed. Have the following available for the cattle as soon as they are weaned or received: Alfalfa hay, Postive Feed ALL IN ONE, grass hay, salt, fresh water. Keep this ration available to the cattle FREE CHOICE, until they are turned out on pasture.    Maintain cattle on this ration for thirty days then turn them out on available pasture or winter grass. With this program, the ALL IN ONE provides the cattle with different sources of proteins, amino acids, minerals, and vitamins needed to encourage appetite while stimulating the immune system.
Study the following cost analysis and compare it to the cost of your current preconditioning program. We think you will be surprised at the money you can save while at the same time provide optimum nutrition and health for your cattle.
Daily & Monthly Cost Offered for 500 lb. Calf

Day

Month

Alfalfa hay @ 5 lbs./HD/day @ .07/lb./day
.35
10.50
Grass hay @ 10 lbs./HD/day @ .03/lb./day
.30
9.00
Postive Feed ALL IN ONE @ .5 lb./HD/day@ .30/lb.
.15
4.50
Salt @ .05/HD/day
.05
1.50
Total Feed Cost
.85
25.50